The Prosthetics Event
The Prosthetics Event is staged by Neill Gorton in November each year.
For details of the next event please see www.theprostheticsevent.co.uk
About the event
A one day event for those passionate about prosthetics, make-up effects, animatronics, masks, monsters, concept art, cosplay, mould making, puppets, face and body art.
Located in Birmingham, the event has a strong educational focus with high profile film and media industry artists, professional prosthetics designers, sculptors and technicians sharing their knowledge. Back-to-back educational demonstrations and talks, special features such as 'Portfolio Surgery', 'Prosthetics Jam' and 'Prize Draws', a chance to shop with leading materials, make-up and equipment suppliers and the 'Monster Mash' Exhibition.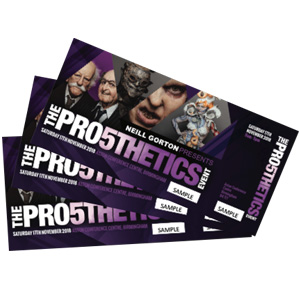 Guest Announcements
Please see the event's Facebook page and website for these.
Information for tutors
If you're an education provider wishing to bring students, we have great savings on offer for groups of 10+ plus 'Tied-in Teaching Packs'. Please  email for information.